Fire Ants in Stafford, Virginia
Do you have fire ants in your Stafford yard? Need a trustworthy pest control expert to eliminate fire ants from your property? Call the professionals at Bradford Pest Control of VA. We've been eliminating fire ants in Stafford, Virginia since 2009, and we can help you too! Fire ants are among the least desired and most aggressive pests. They build large mounds quickly and will viciously attack, inflicting painful, burning stings. Painful raised welts followed by persistent itching and possible scaring are the hallmark of fire ants. Bradford Pest Control of VA can exterminate fire ants from your property and set up a maintenance program that will deter them from moving back in.
---
Call for a FREE Quote
---
Reliable Stafford Fire Ant Extermination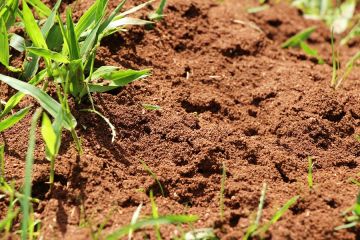 We understand. You want those fire ants eliminated now. They are a nuisance to both families and pets. Our professional exterminators can help you reclaim your lawn! Since 2009, Bradford Pest Control of VA has used its powerful products to completely eliminate fire ants from Stafford lawns, flowerbeds and play areas. Calls us at (540) 501-5291 today for a free quote or to schedule a time for us to come out and eliminate your ant mounds.
Fire Ant Control in Stafford
One-time removal of fire ants is never enough. Fire ants are social creatures and they tend to build large colonies very quickly. Bradford Pest Control of VA offers regular pest control packages including our tried and true methods for controlling fire ants in Stafford and keeping them from reestablishing their homes on your property. Call today to learn more about our scheduled maintenance programs to keep fire ants out of your yard for good!
---
Call for FREE Fire Ants Quote
Dial Area Code first please.
---
WHAT CUSTOMERS ARE SAYING:
5★★★★★ - "Great professional individuals. Were able to take care of wasp/hornets nest in a difficult location. Was there next day after calling. Highly recommend."

Gerald C., Hornet & Wasp Control in Stafford, VA

2022-12-21

5★★★★★ - "Highly recommend! They were able to custom fit us with a package based on our pest control needs. They identified multiple trouble areas around our house and found the main path of entry. Easy to work with, friendly and professional."

Whitney A., Ant Extermination in Stafford, VA

2022-06-20

5★★★★★ - "Bradford and Son's Pest Control Services removed the nasty bugs out of my home. I am so grateful for this. In Fredericksburg, VA there are quite a lot of pest control services but my family is using Bradford and Son's and so do I."

Guillermo F., Pest Control in Stafford, VA

2019-08-02

5★★★★★ - "Dana was extremely helpful and very efficient. Immediately found the problem and found a solution just as quickly. Answered all my questions and offered advice on how to avoid pests in the future. Would absolutely recommend to others! :)"

William K., Rodent Exclusion in Fredericksburg, VA

2022-12-21

5★★★★★ - "I contacted Bradford Pest Control to set up routine pest control services. Dana came out a few days later to discuss my options. He was prompt and professional. We discussed some options and prices and I chose a plan. His son Chris was available to start the service right away. I am pleased with the price of the service and the quick response time. I highly recommend Bradford Pest Control."

Betty F., Insects & Spiders in Woodford, VA

2022-06-20

5★★★★★ - "Very friendly and knowledgeable. Explained the process and contract."

Michael C., Pest Control in Spotsylvania, VA

2022-06-20

5★★★★★ - "Great service from a local family owned business! Dana, the owner, answered all my questions, offered a great rate with warranty, and came out to finish the treatment within 1 day of scheduling. Great guys and work!"

Shane B., Termite Control in Fredericksburg, VA

2022-06-20

5★★★★★ - "Easy going and communicates with your needs. Came on time and did the work. Thank you!"

Merry

2021-04-06

5★★★★★ - "Thank you, thank you Bradford and Son's Pest Services!!! You got rid us of those pest bugs. Your bed bugs control seems to work great. We will recommend your termite control service to our neighbours so we know the area is clean of those bed bugs and termites. Now we appreciate how important is bed bugs control and termite control service. Until now we have underestimated these services but now we have learned our lesson. Thanks again and we will be glad if you keep those bed bugs and termites far from us. See ya!"

Jonah M., Bedbug Extermination in Ruther Glen, VA

2019-08-02

5★★★★★ - "We had the absolute BEST service from Bradford Pest Control. After finding signs of bed bugs, I called Bradford Pest Control and they were able to come out the next day, on a weekend, to take a look and give me a quote. Prices were very reasonable for a heat treatment, so we signed up. I had many questions throughout the 2 weeks before the heat treatment, and always heard back right away with an answer. After the heat treatment, I found that nothing was ruined or warped as I was putting the house back together. It is not uncommon to need 2 treatments to eradicate bed bugs, according to all the forums on bed bugs, but Bradford took care of it in one treatment. It's been 11 months and we are still bed bug free. I am so thankful for this company."

Jenny, Bedbug Extermination in Fredericksburg, VA

2019-04-17
---
Call for FREE Fire Ants Quote
Dial Area Code first please.
---